WHAT TO DO FOR HIGHER AND LONGER OLLIE?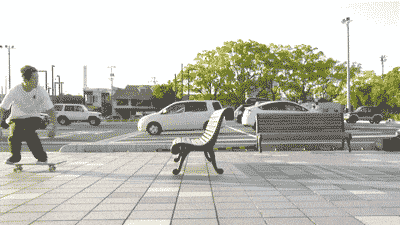 Once you learned how to ollie on flat ground, you may wonder how to ollie higher or longer. The best way to make your ollie higher or longer is to ollie over obstacles. You can start from very low things like empty can or piece of wood you can find anywhere and make it higher and higher. To ollie over obstacles, you should be aware some differences from flat ground ollie. This tutorial explains there differences and teach you how to get higher and ollie.
WHAT TO PREPARE?
The obstacles to ollie over should be easy to fall down when your board hits so you will not stack them and fall down badly. Obstacles also should be change their height. Things like cut wood or pylons should be good.

STEP BY STEP TUTORIAL
The higher the obstacles, the more things you should be aware. Let's look these things step by step.
STEP1: LOOK OBSTACLE
Get enough speed and approach to the object. One of the biggest difference from flat ollie is where to look. You have been looked around your front foot or nose to ollie on flat ground but need to look object now. It can be little tough to keep your balance with new view but getting used to it should be the first step for your higher ollie. Take your time and get used to it.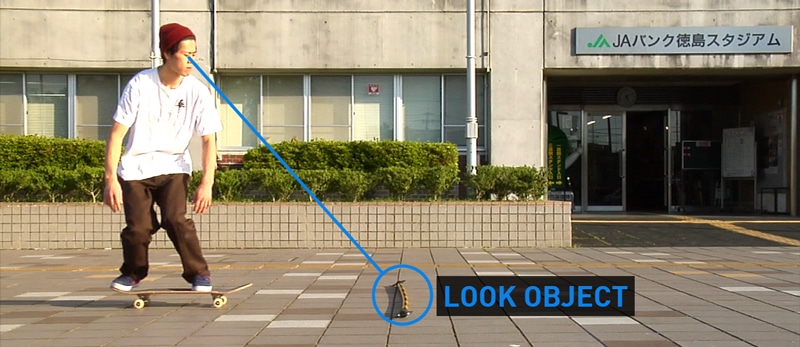 When you ollie higher things, you are going to look top of the object.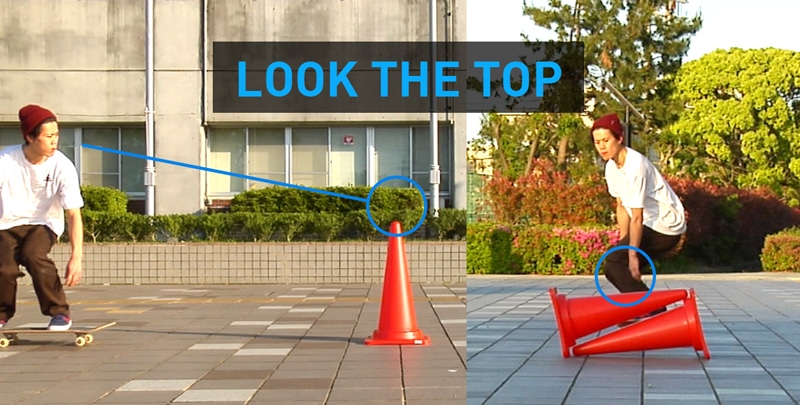 STEP2: JUMP STRAIGHT
If your body rotates right or left in the air, board direction may change and miss straight landing. So make sure your body or shoulder directions are not changing before and middle of ollie.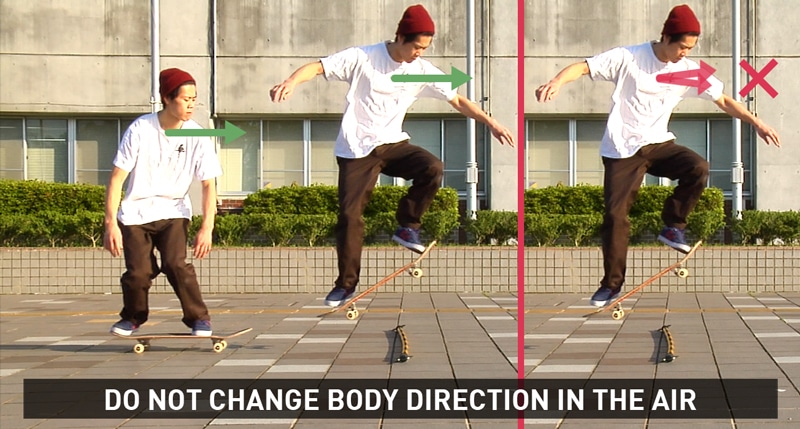 STEP3: UPPER BODY AND FRONT FOOT
This is what you should take care when ollie over higher obstacles. Higher jump, stronger pop, and rising front foot higher than the obstacle will be required. Ollie will not rise higher than your front foot position. Aim top of the obstacle, bring up your upper body as high as possible, and try to bring your front foot higher.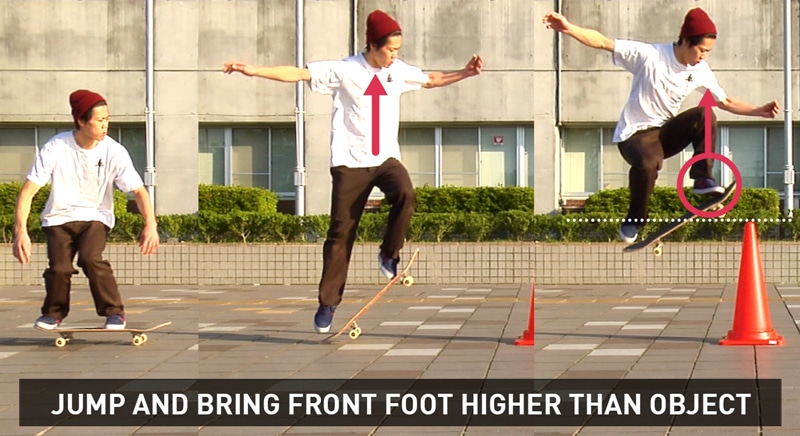 STEP4: BRING UP BACK FOOT
Motion of back foot is the most important thing you can learn from this training. This is not something to explain but something you can get used to. Try to bring your back foot up as high as possible and keep trying.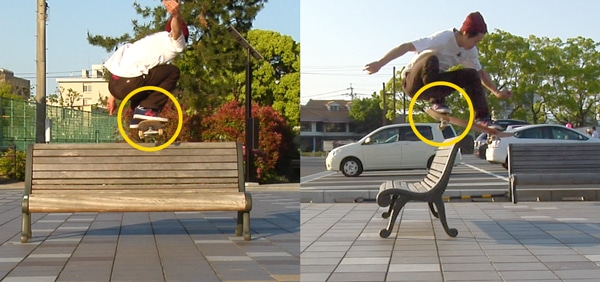 STEP5: LANDING
Right after your body goes over the obstacle, change your view to landing point. Keep your weight position for smooth landing.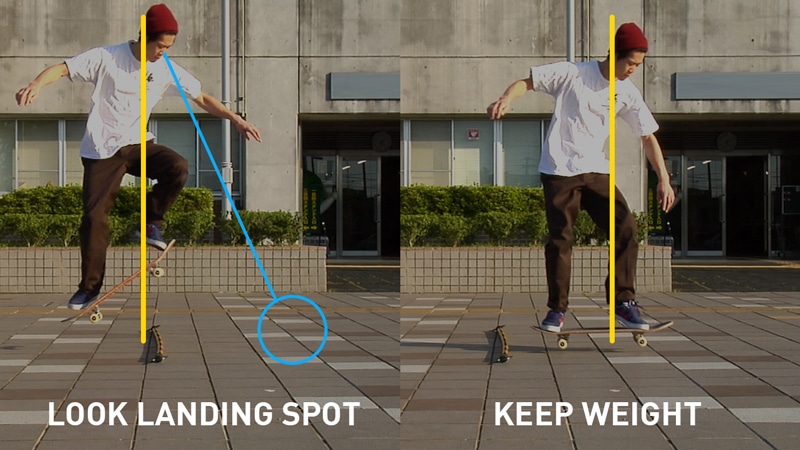 LONGER OLLIE
First of all, you will need lot of speed to ollie over certain length. You will need push as much as possible to get enough speed. Look landing point, jump forward, and pop tail little backward. It should be very dangerous to back wheels to stack edge of gap so practice somewhere your back wheels will not stack even though you didn't ollie enough.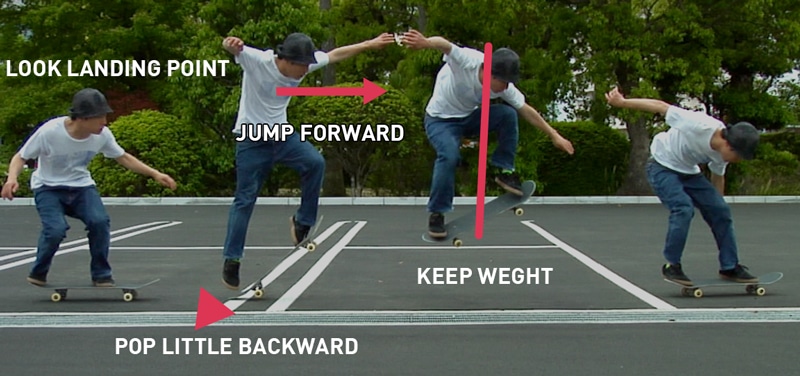 2 FEET (60CM) FOR YOUR FIRST GOAL
Good ollie can make other tricks like kickflip or grind/slide tricks easier so we recommend to take your time to get used to your ollie here. Set your first goal to around 2 feet (60cm.) You can move to kick flip or other flat ground tricks once you can ollie over more than 2 feet. This should be a good shortcut afterwards.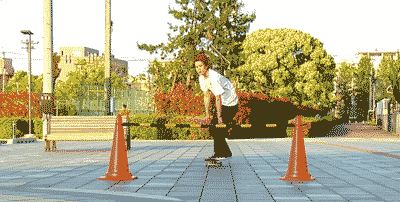 Q&A
Q : I stack on certain height.
This usually happens in middle of this training. Except for little children or elders, people can ollie more than 2 feet without any talent. So keep practicing until you get used to the height. Once you get the height you may ollie over higher things even easier.
Q : Can little kid ollie high as adults?
Since ollie can go where your front foot rise, it should be hard for little child to ollie as high as adult can. So if you are little child, your first goal should be 1feet (30cm.)
WORLD LONGEST OLLIE
In ollie tutorial, we introduced the world highest ollie is 45′ (114.3cm). So this time we introduce world longest one. It is not a official record for Guinness or something but we have never seen 16.6 feet (5m6cm) long ollie done by Jordan Hoffart.