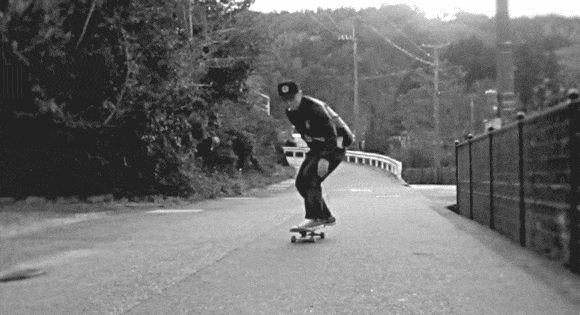 F/S180 NO-COMPLY is like frontside 180 but your front foot is on ground as gif image above. The trick has loved by many skaters since its invention by Neil Blender in 1980th. It usually does not take much effort to learn.
HOWTO F/S180 NO-COMPLY
Two keys for F/S180 NO-COPLY are below.
1. Learning Right Timing of putting front foot down
2. Not moving sidewards
Let's break down the motion and look detail!
STANCE FOR F/S180 NO-COMPLY
Blackfoot is same as ollie or little bit more heel side. Whichever you feel comfortable. Front foot is on hardwares or bit back. Place little heel side and get ready to take off from board. Your weight is center of the board.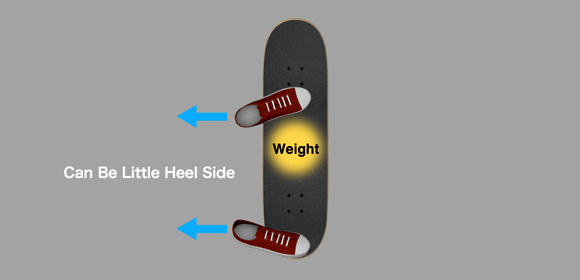 FORM AND WHERE TO LOOK
Upper body turns little forward like F/S180 and look front foot.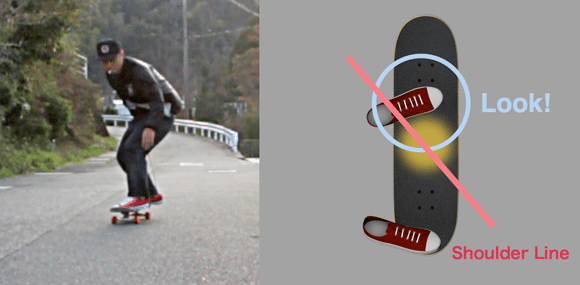 STARTING MOTION
Start rotating your body. Focusing on front foot motion can make your body move sidewards and this is the biggest reason for mistake. It is fine to move little sideward (leftward if regular) but try to rotate at same position.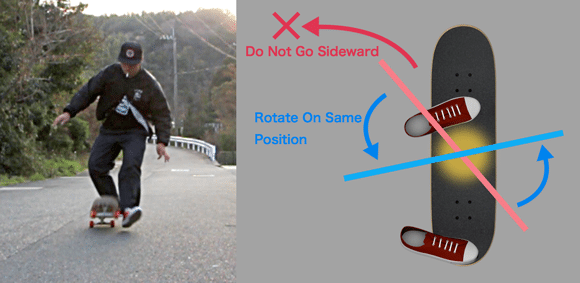 KICK TAIL WHEN LANDS ON GROUND
Take your front foot off from your board right after starting body rotation. Timing of kicking tail with your back foot is when front foot lands on ground.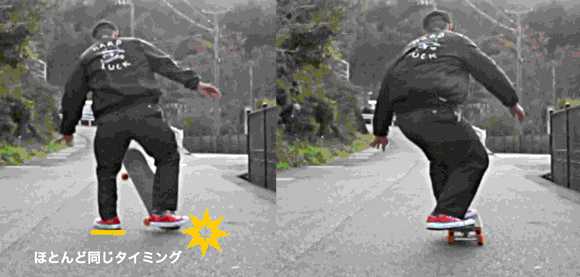 BACK FOOT MOTION
Do not let your board apart from your back foot after kicking tail. Push front foot to forward like leading your board to right direction.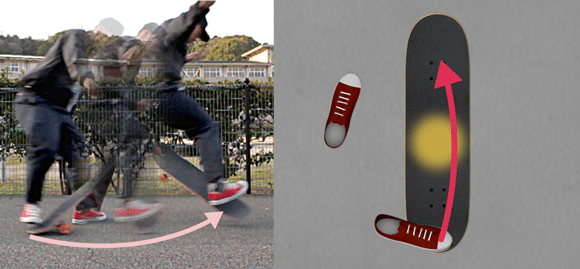 LANDING
Take off of your front foot from ground and go get on your board after kicking tail.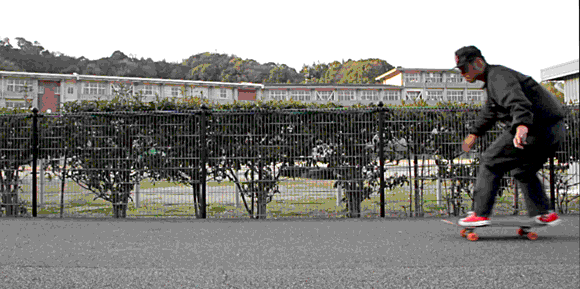 DO EVERYTHING IN ONE MOTION
We've been looking step by step but make sure doing everything in one motion. It can be confusing at first but it makes trick look much smoother and clean.
HOW TO PRACTICE F/S180 NO-COMPLY?
At first, you can practice leaving your front foot on ground after taking off from board. You do not really need ollie skill to learn this trick but since this trick requires body rotation, learning with F/S180 can be a good shortcut.
NO-COMPLY VARIATIONS
No-comply has a lot of variations. No-comply without rotation can be little harder. It also has backside version, 360 version, adding heel flip, and lots more.
You can even create your own variation. Here is a bit of examples.
No Comply F/S 360 / No Comply Big Spin Heelflip
F/S180 NO COMPLY IN SKATE VIDEO
F/S180 No-comply can be hard trick on big set. Wes Kremer is one of a professional skateboarder did it on Transworld's "Not Another Transworld Video". There are many other videos around.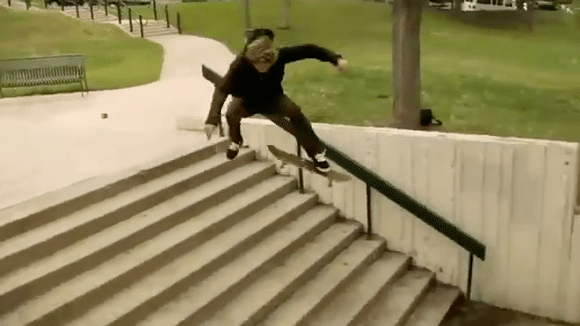 Wes Kremer Part from "Not Another Transworld Video"